Colorectal cancer is the third most common cancer in the United States and is the leading cause of death from cancer. It affects all racial and ethnic groups and is most often found in people aged 50 and older.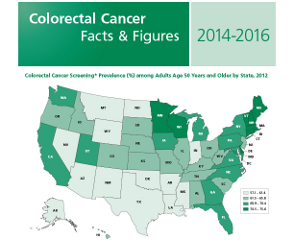 According to a new report from the American Cancer Society, the rate at which people are diagnosed with colon cancer in the U.S. has dropped 30% in th past 10 years for those aged 50 years and older. Death rates from colon cancer have also declined rapidly within the past decade. Researchers are crediting the drop to more people getting recommended screening tests.
There are often no signs or symptoms, so the best way to prevent colorectal cancer is to get screening tests done regularly starting at age 50.
Take these healthy steps to help prevent colon cancer:
Get screened starting at age 50--Colorectal screenings are covered under the heath care reform law for adults over 50
Quit smoking and stay away from secondhand smoke
Get active and eat healthy--prevent colorectal cancer by choosing foods low in fat and high in calcium and fiber
Resources: healthfinder.gov, cancer.org