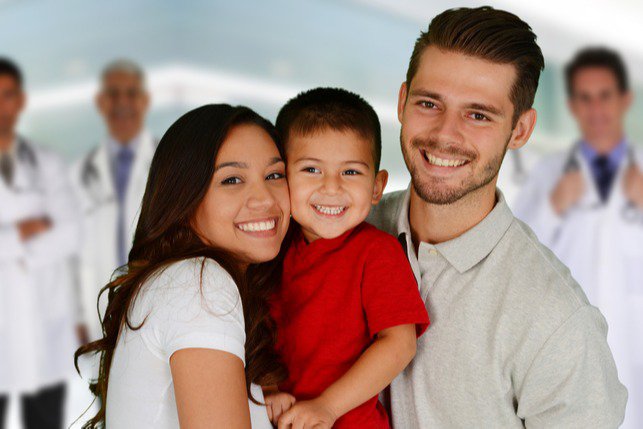 Whether you are a parent looking out for your sick children or an adult with a personal health concern, you'll likely need to pay a visit to your doctor. Instead of going to random urgent care centers each time there is a problem, you are much better off by visiting the same doctor for preventative care.
Having a primary physician that you see regularly can be beneficial for both you and your family members. With a family doctor, each member of your family receives care from the same physician – a physician who can watch your family grow, monitor their development, and ensure that you all remain healthy and happy. That's why we've outlined everything you need to know about family medicine, and why your family should have it.
What is Family Medicine?
Family medicine is a medical specialty that focuses on the comprehensive health care of people of all ages. Family doctors are trained to treat various non-emergency conditions and provide their patients with preventive, diagnostic, therapeutic, and rehabilitative services. They typically provide primary care for an entire family, maintaining consistent care with each member and establishing a trusted relationship. There are many aspects of family medicine, including:
Preventative care - One of the main aspects of family medicine is preventative care. This means that your family doctor will provide you with the tools and knowledge you need to prevent illnesses before they occur. They can provide immunizations and screenings and counseling on diet, exercise, and stress management. 
Diagnostic care - Your primary doctor can also provide diagnostic care for your family. If you or a family member becomes ill, your family doctor will be able to diagnose and treat the illness. They are also trained to provide care for chronic conditions, such as diabetes, high blood pressure, and arthritis.
Comprehensive care - Family doctors are trained to provide a wide range of services, from diagnosing and treating illnesses to providing wellness care. This means that they can focus on optimizing the health of their patients, rather than simply treating illnesses. Family doctors can provide nutritional counseling, help you quit smoking, and provide other services to help you and your family live healthier lives.

If you or your family need a primary care provider, you can find a trustworthy family doctor at Genesis Medical Associates.
Why is Family Medicine Important?
Family medicine allows you and your family to receive comprehensive care from the same provider. Having a family doctor can make it easier to get the care you need because you will already have an established relationship with a trusted physician. Some of the benefits you can receive from family medicine include:
Personalized care and communication - Family doctors get to know their patients and their families, which allows them to provide more personalized care in every aspect. Because family doctors know their patients well, they can improve communication between the patient and the doctor, as well as between different specialists.
Familiarity with your family history - Your family history is important because it can give your doctor clues about what medical problems may run in your family. This information helps your doctor customize your health care, including screenings and vaccinations that are right for you.
A doctor that stays with you for life - Your family doctor gets to know you over time and can provide continuity of care throughout your life, from infanthood to adulthood. This means that your doctor is there for you during the good times and the bad, providing comprehensive care for your physical, mental, and emotional health.
Coordinated care - Having a family doctor can make it easier to coordinate your care because your doctor will be familiar with your medical history and can work with other members of your healthcare team. If you need to see a specialist, your family doctor will coordinate your care and make sure that all of your doctors are on the same page. 
A physician that looks at the big picture - Your family doctor is trained to look at your health as a whole, not just as a collection of symptoms. They will consider your lifestyle, work, home life, stress levels, and more when trying to determine the root cause of your health concerns. This comprehensive approach means that you are more likely to get to the bottom of your health problems and find lasting solutions.
Saving money - You may be surprised to learn that seeing a family doctor can save you money in the long run. That's because family doctors are trained to provide preventive care that can keep you healthy and catch problems early when they are less expensive to treat. In addition, family doctors often have good relationships with other health care providers in the community, which can help you get discounts on tests or procedures.

Your family doctor is usually the first stop when you are feeling sick or have a health concern. They will listen to your symptoms and concerns and then determine the best course of action. Having a family doctor that you trust and feel comfortable with is important because you can rest assured that they have your best interest in mind when making these decisions. No matter what the problem is, or who it is affecting, your family doctor will be able to offer you valuable insights and solutions.
Family medicine is exactly as it sounds – medical care aimed at keeping your family happy and healthy. If you are looking for healthcare for your family, look no further than Genesis Medical Associates. Our primary care physicians are dedicated to offering your family the best care possible.
Genesis Medical Associates is dedicated to providing families with access to primary care and improving the overall health and wellness of our patients. We offer a variety of services including primary care, behavioral counseling, cardiology, telemedicine, and more. Visit one of our many Pittsburgh, PA locations or schedule an appointment online today.