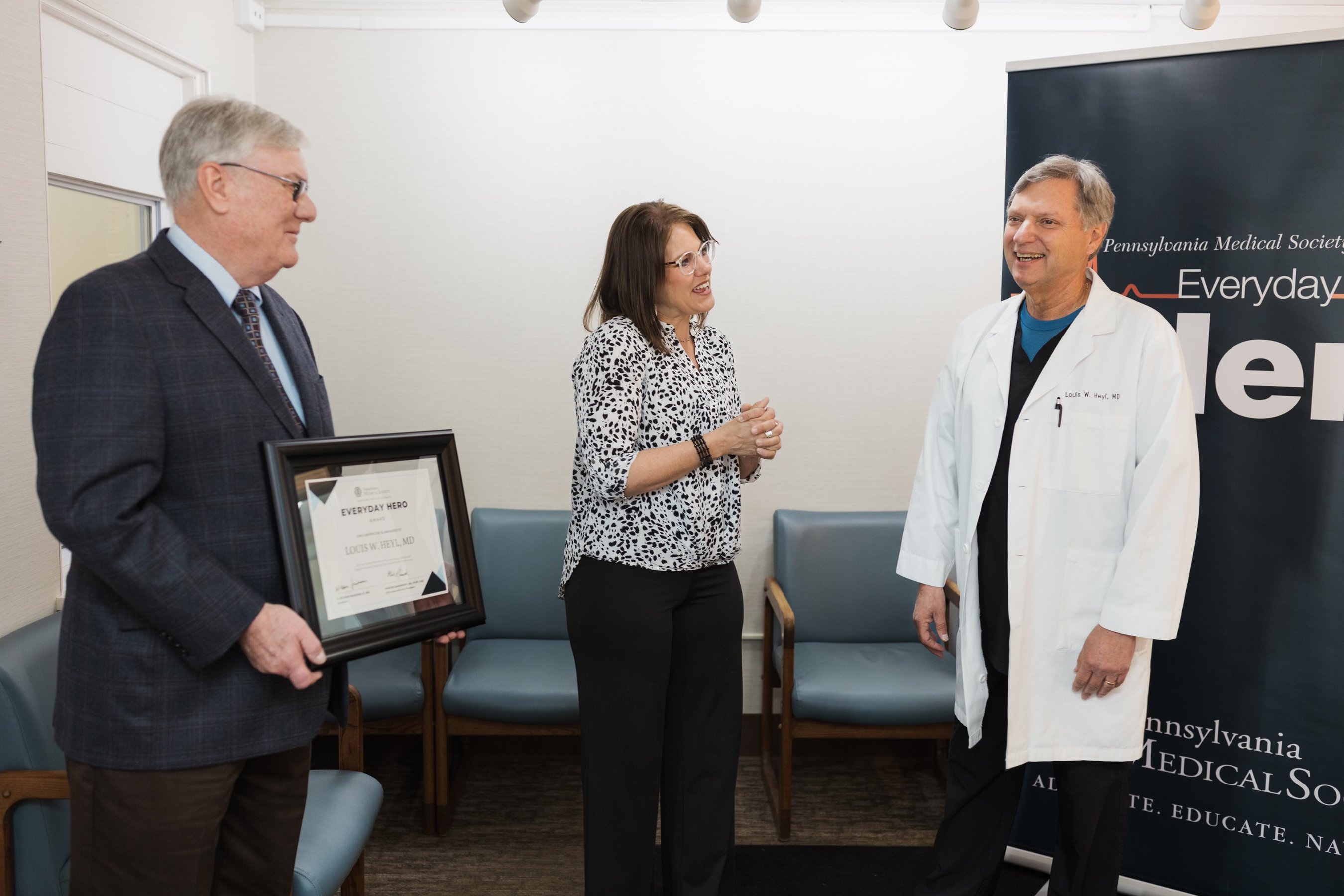 On Thursday, April 20th a small gathering was held at the West View Office to present Dr. Louis Heyl with the Everyday Hero Award through the Pennsylvania Medical Society (PAMED). This award is given to physicians who go above and beyond in providing patient care. Nominations are accepted from colleagues and patients. Dr. Heyl was surrounded by staff from the office, his son and colleague, Dr. Scott Heyl, and various PAMED leaders from the regional and state level including Allegheny County Medical Society (ACMS) President, Matt Straka, and 13th District Board of Trustee, Alan Yeasted. 
Dr. Heyl received the award based on a nomination from a colleague, describing him as 'the definition of a provider that goes above and beyond to truly get to know his patients, his staff and his colleagues.'
Appreciative of the nomination, Dr. Heyl took the time to express his gratitude for the nomination, but feels as though what he does as a physician isn't anything 'special'. "It's something I love to do. You hear all these [great things said about you] and you just think, 'Of course, why wouldn't I do those things?'"
He also recognized that his success and the positive patient experience is truly a team effort, one he continues to be amazed by over the years. He stated, 'To be successful in patient care today, it's a huge team process. I think when I started there were 8 employees in our little practice here, and now we have 44. It takes that many people to do what we do and to make it look [easy]."
Dr. Heyl's colleagues aren't the only ones to recognize and appreciate his dedication to the field of medicine, his patients are always willing to share their appreciation for his care. Sandra and Bob Guckert are lifelong supporters of Dr. Heyl and Heyl Family Practice, mainly because of Dr. Heyl's ability to treat them like family and prioritize their needs. "You know when [you're at the hospital] the doctor comes to check on you and they are out of the door before they even get in? Well, when Dr. Heyl comes in, he pulls up a chair, sits down and gives you his full attention. He treats you like family. That made us feel so good," said Sandra.
As a primary care physician with over 40 years of experience in the industry, Dr. Heyl has a track record of high quality patient care and leadership. That being said, it is no surprise Dr. Heyl was awarded this designation.
Dr. Heyl sees patients at both the West View and McCandless Offices in the North Hills of Pittsburgh. Heyl Family Practice is a division of Genesis Medical Associates, Inc. 
To see the full press release from the Pennsylvania Medical Society, click here.