Skip Main Content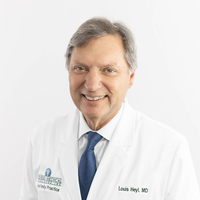 Louis W Heyl, MD
ROLE:
Family Medicine
SPECIALTIES:
LANGUAGES:
WE CARE ABOUT YOUR FEEDBACK!
Please take a moment and let us know how your experience was.
REVIEW US
Meet Louis W Heyl, MD
Dr. Louis Heyl, MD is a board-certified Family Medicine Doctor and a long-time physician at Heyl Family Practice, a third-generation primary care office in Pittsburgh. With over 40 years of experience supporting individuals in our community, Dr. Heyl has earned the trust of many family generations since he started his career in medicine. Dr. Heyl has made an effort to continue the legacy of his father, Frank Heyl, by prioritizing quality patient care. This has helped him build a reputation as a preferred PCP in the Pittsburgh area.
Dr. Heyl treats a wide range of conditions, from acute illness to long-term more complex illnesses like high blood pressure and diabetes. He is a strong believer in trying different things to help manage your health and wellness including adjustments to your diet. Dr. Heyl has become a resource for many of his patients that are exploring the option of a plant based and whole food lifestyle. Dr. Heyl was so dedicated to learning more about the lifestyle that he pursued and earned a certification in plant based nutrition from Cornell University in 2011. Not only does he take the time to educate his patients on the health benefits to the lifestyle, but he is a role model by implementing it in his own day to day meal choices.
When asked what his favorite aspect of primary care is, he states, "The people, the relationships - Someone comes in with a problem and I do what I can to help support them through figuring it out. Whether I have the answer or I connect them with a specialist who does, I enjoy helping patients problem solve. It's personal to me and I want patients to know I am invested in their success."
Dr. Heyl has held a variety of leadership positions over the course of his career including the past Chairman of Family Medicine at UPMC Passavant and past President of Genesis Medical Associates. More than that, he was a founding member of Genesis Medical Associates, helping to build and shape it's ongoing growth and success.
Dr. Heyl practices at both offices (West View and McCandless). We offer same day appointments and a wide range of hours Monday-Friday to meet patient needs.
Education
Hahnemann Medical University

Doctorate of Medicine,

Family Medicine

1976 - 1980

West Virginia University

Masters of Science,

Microbiology

1974 - 1976

Washington and Jefferson College

Bachelor of Arts,

Biology

1970 - 1974

Cornell University

Certificate,

Plant Based Nutrition

2011 - 2011
Training
Residency

Western Pennsylvania Hospital

1981 - 1981
Hospital Affiliations
UPMC Passavant

UPMC Cranberry Passavant
Awards
Best of the Best Family Practice

2020

Best of the Best Family Practice

2021

PA Top Doctor

2022

Everyday Hero Award Recipient

Pennsylvania Medical Society (PAMED)

2023
Heyl Family Practice - West View
Heyl Family Practice - McCandless
Contact Us
Office Location
Office Location
Address:
Hours:
Get In Touch with Us:
Thank you for subscribing!
You will receive important news and updates from our practice directly to your inbox.
Thanks!