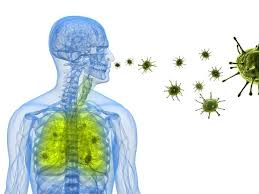 What is Pneumonia?
Pneumonia is an infection involving one or both lungs that can cause mild to severe illness and even death in people of all ages.  Many small germs, such as bacteria, viruses, and fungi, can cause pneumonia. Some people are more susceptible including adults 65 years of age or older and children younger than 5 years of age.  People up through 64 years of age who have a underlying medical condition such as diabetes, and people 19-64 who smoke cigarettes or have asthma are also at an increased risk for developing pneumonia.
Symptoms of Pneumonia:
Persistent cough
Fever
Fatigue
Nausea and Vomiting
Rapid Breathing or Shortness of Breath
Chills 
Chest Pain
How does Pneumonia affect your Body?
Most of the time, the body filters germs out of the air we breathe.  This keeps the lungs from becoming infected.  But, occasionally germs find a way to enter the lungs and cause infection.  This is more likely to occur if your immune system is weak, a germ is very persistant or your body fails to properly filter the germs out of the air we breathe.  
When the germs that cause Pneumonia reach the lungs, the lungs air sacs or alveoli become inflamed and fill up with fluid and pus. This causes the symptoms of Pneumonia, such as fever, cough, chills and difficulty breathing.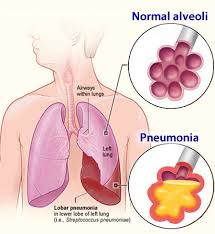 So how can you reduce your risk??  
Good hygiene practices can help prevent respiratory infections such as pneumonia.  These include using hand sanitizer and or washing your hands thoroughly.  Frequently washing phones, desks and any other hard surfaces you come into contact with such as countertops and computer keyboards. Smoking puts you at a greater risk for pneumonia and other lung diseases.  Talk with our doctors today regarding options designed to help you stop smoking. 
 Like the flu, pneumonia can also be prevented with vaccines, and because the flu puts you at higher risk for developing pneumonia, patients should also receive the flu vaccine.
The best chance for a speedy recovery is early detection.  Our office has recently expanded our office hours to accomodate Same Day Appointments.  'Call Us First' to be scheduled for a Same Day appointments at your convenience.  We will make every effort to accomodate you before work, during lunch or in between children's activities.  
Schogel and Fardo Family Medicine
(724) 741-0044