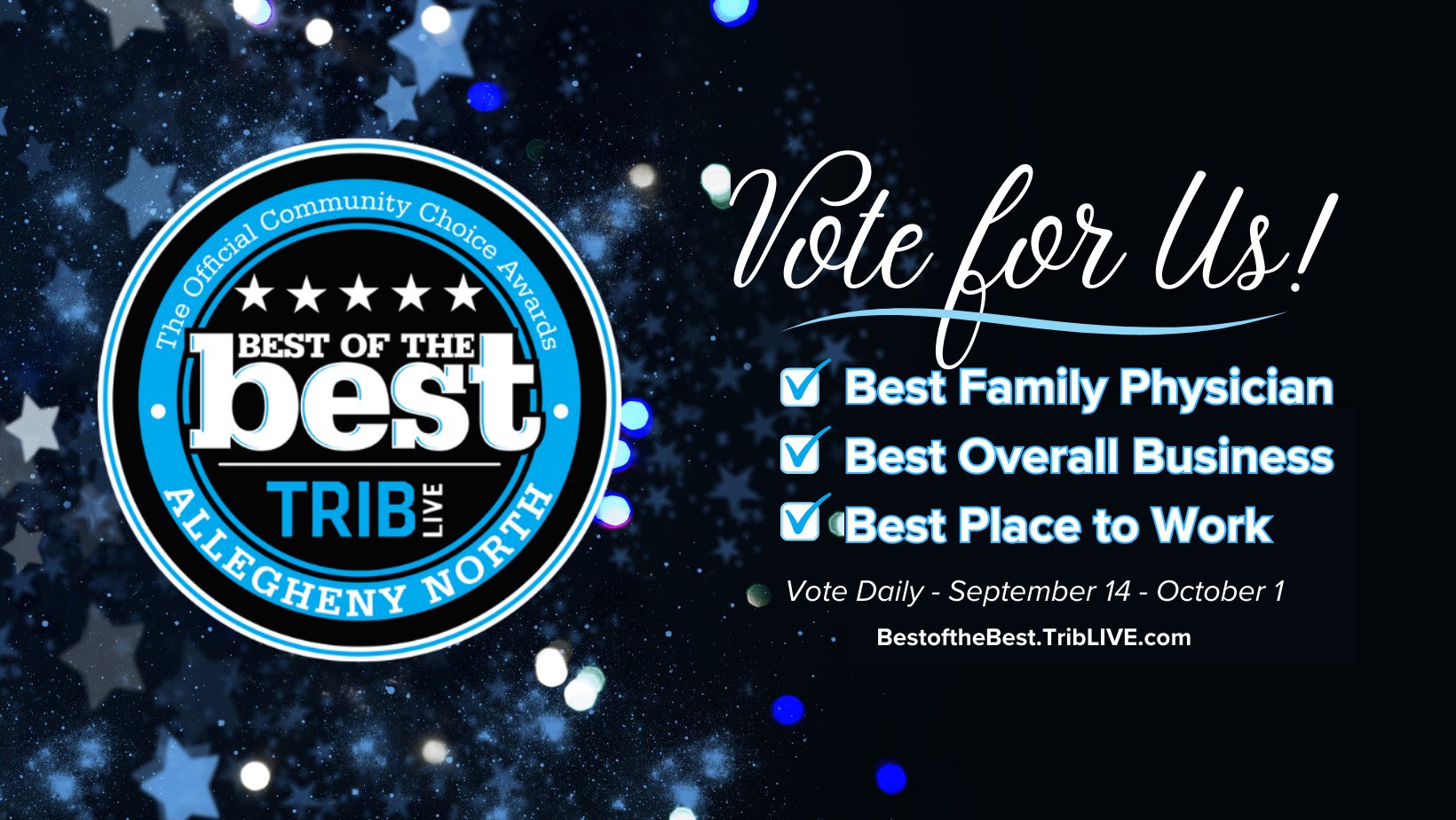 Heyl Family Practice has done it again (with your help)!
Each year, TribLIVE hosts the Community Choice Awards, celebrating and recognizing the best the community has to offer in each region of Pittsburgh. Beginning in July, they accepted nominations for businesses and individuals to earn a spot on the ballot and ultimately, the ability to earn the title of 'Best of the Best' in their category for their region.
The top five finalists in each category were announced this week and voting for the winners will go from September 14th through October 1st. Winners for each category will be recognized in a special print and online section once the voting round has ended, votes are tallied and verified. This will be announced in December!
We are thrilled to announce we've earned a spot in three categories for the Pittsburgh North Region: Best Family Physician, Best Overall Business and Best Place to Work! Like the initial voting round, we are asking for your support to help us earn all three titles this year!
Voting is simple:
Click here

or click the button at the bottom of the article to land on the Pittsburgh North Best of the Best Ballot.
Scroll down and choose the first category on the left: 'Beauty and Health'. Under that category, you will see 'Family Physician (Person's Name and Company Name)'.
Click 'VOTE' for Genesis Medical Associates: Heyl Family Practice.
If you already registered from participating in the first round of voting, you should be able to submit your vote without putting in additional information.
If you did not participate in voting for the first round, you will need to complete the registration form by providing your name and email address. Once you are registered, your nomination will be sent in.
Next, scroll down to the 'Miscellaneous' category on the left. Under that category, you will see 'Overall Business' and 'Best Place to Work'. You can also vote for Heyl Family Practice in these categories if you'd be willing! We'd ask that you only vote for us for Best Place to Work if you are an employee or past employee of the company!
Individuals can nominate once per day AND per category through the nomination period! So feel free to vote everyday! We would appreciate the support.
Even though we recognize we've been a trusted practice for many years, it's situations like this one that really humble us. Earning a spot for consideration with awards like these are such a momentous thing for a family run, Pittsburgh based business like ours. Thank you in advance to everyone that is able to support us in the TribLIVE Best of the Best Awards. You, the patients and community, are truly the best.